by
Tereza Alabanda


E
ither you love it, or you can't stand it! I haven't met person indifferent to lemon meringue tart just yet! Lemon Meringue Tart consists of crumbly sweet shortcrust pastry, tangy and silky lemon curd, and sweet and airy Italian meringue.
If you have never made a tart before, take a few minutes and learn how to line a tart mold first. Make your shortcrust pastry, leave it to rest in a fridge, and start preparing lemon curd. When your curd is done, put it in the fridge to cool down and bake the tart shell. You need to fill baked and cooled tart shell with cold lemon curd. At the end, you have to make Italian meringue and torch it with chef's torch. If you don't have one, you can brown your meringue in the oven for few minutes.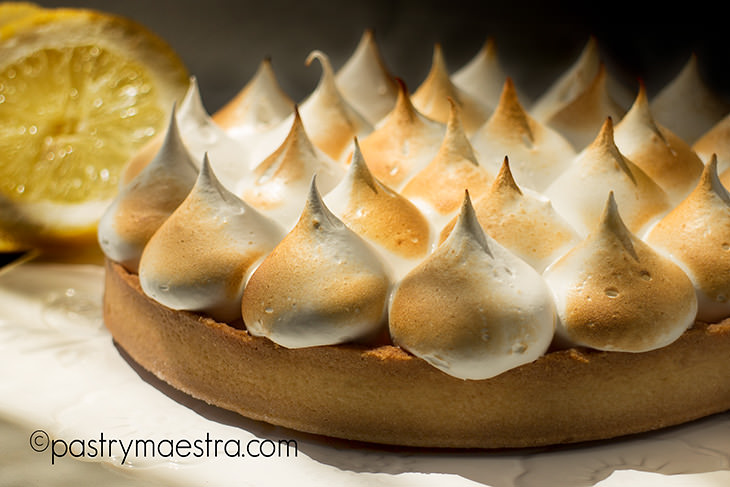 Lemon Meringue Tart Recipe
by:Tereza Alabanda,The Pastry Maestra
PRINT PDF (EN)
ISPIŠI PDF (HR)
Prep. time : 45 minutes
Cook time : 25 minutes
Ready in 90 minutes
Level : Advanced
Shortcrust Pastry:
All purpose flour 200g (7oz)
Butter 100g (3.5oz)
Powdered sugar 50g (1.8oz)
Egg 50g (1.8oz or 1 medium egg)
Lemon curd:
Lemon juice 100g (3.5oz)
Eggs 100g (3.5oz or 2 medium eggs)
Egg yolk 20g (0.7oz or 1 medium egg yolk)
Sugar 100g (3.5oz)
Grated zest of one lemon
Butter 50g (1.8oz)
Italian Meringue:
Egg whites 100g (3.5oz)
Sugar 200g (7oz)
Directions
To make shortcrust pastry cream softened butter with powdered sugar, and add one egg. Continue beating until the mixture becomes uniform. Add sifted flour and fold it with a silicone spatula. Wrap the dough in plastic foil and leave it in the fridge for about 1 hour.
While the dough is chilling, cook the lemon curd on a bain-marie: combine lemon juice, eggs, sugar and lemon zest into a bowl, and cook stirring constantly until the curd thickens. Run it through a strain and then, incorporate the butter. Let it cool down completely.
Line a 20cm (8″) in diameter tart ring with the chilled dough, dock it with a fork, and put plastic foil and baking weights inside. Bake for 10 minutes, remove weights and put it back in the oven until fully cooked.
When both tart shell and lemon curd are cold, fill the shell with the cream and start preparing Italian meringue. Cook the sugar with some water until it reaches 118°C (244°F), and pour it onto whipped egg whites.
Decorate the top of the tart with Italian meringue, so it completely covers the curd. Blowtorch the meringue.
Copyright© PastryMaestra.comTM
---
Well, what do you think about this post?
Please leave your comment on YouTube, thank you!
I read and really appreciate all the comments, even though I do not always have the time to respond to each one. So – keep me in the loop and try to create some sweetness every day because – Sweetness is happiness!!