by
Tereza Alabanda


A
iry meringue, light Chantilly cream, and fresh berries – if there is a dessert that's defying the gravity – it's Pavlova! Light as air, inspired by the famous Russian prima ballerina Anna Pavlova, this dessert was created (according to the legend) by the nameless pastry chef in honor of Pavlova during one of her Australian and New Zealand tours at the beginning of the 20th century.
And it is not only light and fresh, but also very easy to make! Now let's play and make an elegant mini Pavlova (or two) for each guest. You only need a couple of basic ingredients – eggs, caster sugar, whipping cream and some fresh berries, and that's it!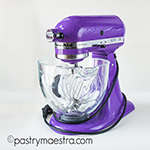 Remember how to make meringue? You will need to plug in your stand mixer, make French meringue, and add a tablespoon of cornstarch to stabilize it. A spoonful of this mixture on parchment paper will be enough to make one mini Pavlova. Drying out meringue is going to be the longest step of making this lovely dessert. The great thing is that you can make meringue discs the day before! You should bake them until they become crisp on the outside and still remain soft on the inside. Leave meringue piles in the oven until it cools down because if you take them out too soon the temperature change will hit them hard and they will collapse, maybe even break! Transfer completely cooled meringues to a container and seal well, or finish your Pavlovas immediately. Whip up some Chantilly cream, top the meringue with it and sprinkle some fresh berries at the end. One tip – don't assemble your Pavlova too much ahead – the cream will soak the meringue, and you will lose the crunchiness. I like to prepare my whipped cream ahead and store it in the fridge until needed, and when you have everything ready – you can make your Pavlovas in a jiffy!
Mini Pavlova with Berries Recipe
by:Tereza Alabanda,The Pastry Maestra
PRINT PDF (EN)
ISPIŠI PDF (HR)
Prep. time : 15 minutes
Cook time : 60 minutes
Ready in 75 minutes
Level : Basic
Ingredients:
Egg whites 150g (5.3oz)
Caster sugar 150g (5.3oz)
Powdered sugar 150g (5.3oz)
Cornstarch 10g (1Tbsp)
Whipping cream 300g (10.6oz)
Powdered sugar (for Chantilly cream) 30g (1oz)
Vanilla powder to taste
Fresh berries to taste
Directions
Make French meringue. Whisk egg whites to soft peaks, and gradually add caster sugar. Continue whisking until firm and smooth. Add sifted 150g (5.3oz) of powdered sugar and 10g (1Tbsp) of cornstarch, and fold them in with a silicone spatula.
Make discs approximately 13cm (5″) in diameter with piping bag fitted with 20mm (3⁄4") tip.
Bake them at 90°C (195°F) for about 1 hour. Every now and then open the oven door to let the moisture escape from the oven. Leave the meringue discs to cool completely.
Make Chantilly cream. Whip the cream with 30g (1oz) of sifted powdered sugar and some vanilla powder to soft peaks.
To assemble Pavlova, top the cooled meringue with Chantilly cream, and top it with fresh berries.
Copyright© PastryMaestra.comTM
---
Well, what do you think about this post?
Please leave your comment on YouTube, thank you!
I read and really appreciate all the comments, even though I do not always have the time to respond to each one. So – keep me in the loop and try to create some sweetness every day because – Sweetness is happiness!!