by
Tereza Alabanda


T
oday I'm making soft, buttery and super yummy chocolate chip brioche buns! The bonus is – it is so easy to make them!
How to Make Chocolate Chip Brioche Buns?
First you will need a good bread flour which has higher protein content than all purpose or cake flour. That way you will get better structured dough. Next, don't spare on orange and lemon zest – they will give that beautiful aroma to your brioche. You can even add one tablespoon of rum or liqueur of your choice! Finally, to make wonderful brioche, you will need all that butter indeed! I'm sure it feels it is too much, but trust me, it isn't! :) Also, you can check my other brioche recipes – I have already two of them! The first is classic brioche that you can eat with sweet or savory food like pâté or prosciutto and cheese, and the other one is raspberry brioche crumble. Both delicious, I promise!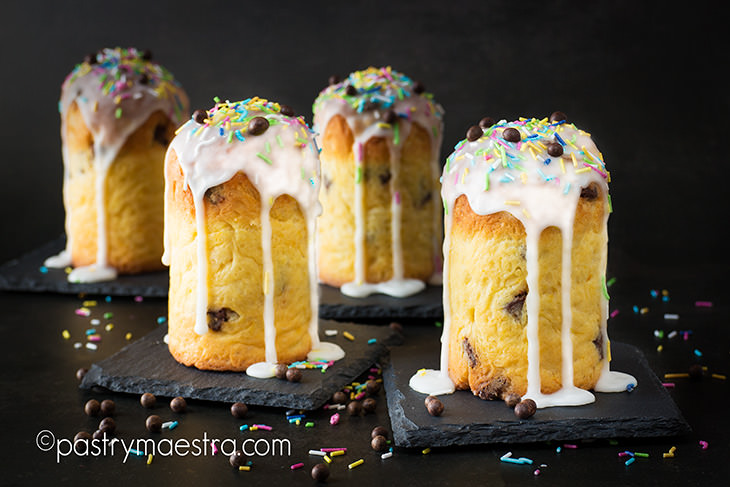 Anyway, once your dough is done, you will need to wrap it in plastic foil and refrigerate overnight which will allow it to ferment and develop flavor. So, tomorrow morning you will knead in your chocolate chips. I choose to add milk chocolate chips since the brioche dough isn't very sweet, but you can pick your chocolate – white, dark, any chocolate you like will work as long as it doesn't contain lots of cocoa butter.
Next, you will portion your dough while it is still cold, and shape it into a form of a cylinder. I'm using 6cm (2.3″) in diameter cake rings for my buns. If you don't have those, you can use any small molds you do have, like for example, muffin pan or something like that. Once you've shaped your buns, you will need to leave them for about one hour at room temperature to prove. Make sure to cover them lightly with plastic foil so the dough doesn't dry out.
Once baked, you can eat your chocolate chip brioche buns while they are still warm. I just LOVE warm brioche because it is so soft on the inside, and has that delicate crust on the outside – absolutely delicious! But, this time I've decided to wait and fill my cooled brioche with milk chocolate ganache – simply because more chocolate is always better, at least in my book… ;)
Easy Chocolate Chip Brioche Buns
by:Tereza Alabanda,The Pastry Maestra
PRINT PDF (EN)
ISPIŠI PDF (HR)
Prep. time : 30 minutes
Cook time : 20 minutes
Ready in 50 minutes plus cooling and proofing
Level : Advanced
INGREDIENTS
Brioche Dough:
Bread flour 250g (8.8oz)
Orange zest 4g (1Tsp)
Lemon zest 4g (1Tsp)
Salt 4g (1Tsp)
Milk 30g (1oz)
Fresh yeast 15g (1/2oz)
Eggs 100g (2 medium eggs)
Egg yolks 20g (1 medium egg yolk)
Butter, softened 175g (6.2oz)
Milk chocolate chips 100g (3.5oz)
Milk Chocolate Ganache:
Milk chocolate 115g (4oz)
Cream 35% 55g (2oz)
Butter 30g (1oz)
Sugar Glaze:
Powdered sugar 100g (3.5oz)
Milk 20g (0.7oz)
Sprinkles for topping
Directions
To make brioche dough put milk into a measuring cup, add fresh yeast and stir until it dissolves.
Place flour into a stand mixer fitted with hook attachment, and add orange zest, lemon zest, vanilla powder, salt and sugar. Mix on low speed to combine the dry ingredients.
Then, add dissolved yeast, eggs and egg yolks, and mix on medium speed for about 10 minutes until the dough becomes nice and smooth. Gradually add softened butter and mix after each addition for a couple of minutes, until incorporated.
Wrap the dough in multiple layers of plastic foil, and refrigerate it overnight.
Place chilled dough onto floured counter and flatten it a bit. Sprinkle milk chocolate chips onto the dough and knead them in. Portion the dough into 85g (3oz) pieces. Roll each piece between your palms into a shape of a cylinder, and put them into 6cm (2.3″) in diameter paper lined cake ring. Leave brioche buns at room temperature to ferment for about an hour.
Brush your brioche buns with egg wash and bake them at 180°C (350°F) for about 15-20 minutes, until golden.
To make milk chocolate ganache melt milk chocolate in the microwave on low heat. Gradually add warm cream and stir with a whisk until it becomes shiny. Then, add softened butter and stir until it melts. Leave ganache at room temperature to cool down a bit.
To make the sugar glaze put powdered sugar into a bowl. Add milk and stir with a whisk until you get smooth glaze.
Using an apple corer remove the core of your brioche, saving the core for later when you will use it as a plug. Fill the hole with milk chocolate ganache leaving the top inch empty. Close the hole using a part of the core that you've previously removed.
Glaze the top of your brioche with sugar glaze, top it with sprinkles and chocolate pearls.
There, your delicious chocolate chip brioche is done! Enjoy!
Copyright© PastryMaestra.comTM
---
Well, what do you think about this post?
Please leave your comment on YouTube, thank you!
I read and really appreciate all the comments, even though I do not always have the time to respond to each one. So – keep me in the loop and try to create some sweetness every day because – Sweetness is happiness!!