by
Tereza Alabanda


T
oday I'm making caramelized white chocolate sandwich cookies. And yes, they are as delicious as they sound because they are made of chocolate and hazelnut cookies which are sandwiched with caramelized chocolate ganache! Yum!
What is Caramelized White Chocolate?
I have to emphasize that caramelized white chocolate is not my invention, but it was developed in the laboratories of the famous French chocolate manufacturer "Valrhona" – and it's name is Dulcey Blond chocolate! Now, who invented Dulcey in the first place? Great question! Like many other brilliant inventions, Dulcey was invented by accident!
One day Valrhona's chef Frédéric Bau accidentally left some white chocolate in the double-boiler for too long, and he noticed it had turned beige, and also got the intoxicating smell of toasted shortbread and caramelized milk. Valrhona perfected the process, and voilà – the chocolate star was born!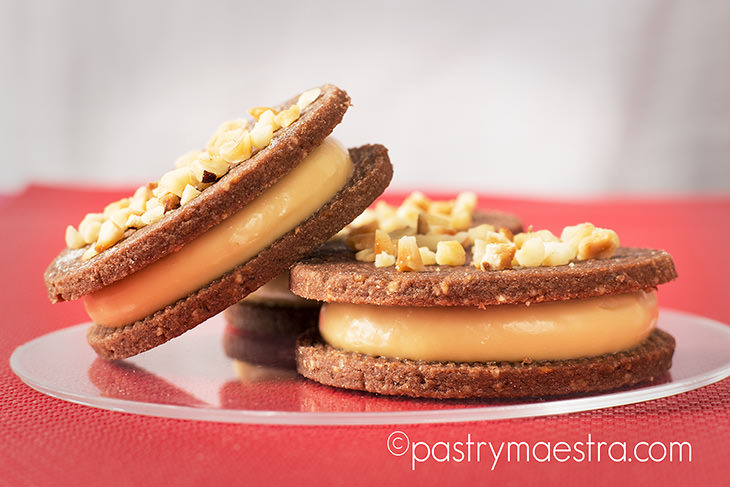 How to Make Caramelized White Chocolate?
To make caramelized white chocolate you don't need to own a high end chocolate laboratory, on the contrary! It is quite simple, and anyone can do it! All you need is a regular oven, or a microwave oven, and some good quality white chocolate. That means that your white chocolate should have rather high content of cocoa butter (at least 30%, but higher is better), and it shouldn't contain any vegetable fats. One more thing before you start – be patient! For me it took approximately one hour to caramelize white chocolate in the microwave, because I did it gently, so I wouldn't overheat it and burn it, it would be a waste, don't you think?
How to Caramelize White Chocolate in a Regular Oven?
To caramelize white chocolate in a regular oven, you will need a baking tray, a piece of parchment paper, and some good quality white chocolate, of course. Preheat your oven at 130°C (266°F) without fan. You will need to chop the chocolate and distribute it onto the parchment paper lined baking tray. Put the tray in the preheated oven for 10 minutes, and then take it out. Using a silicone spatula spread the chocolate all over the parchment paper. Put the tray back in the oven, and continue baking for about 40 minutes (it may take more or less, depending on your oven and the type of chocolate), stirring well every 10 minutes. At some point it will probably become lumped and grainy, but don't worry, just continue stirring and baking until it is done, meaning – when it turns golden and smells beautifully, like caramel – it's done!
How to Caramelize White Chocolate in a Microwave Oven?
I prefer this method because it seems even more practical and less messy than doing it in a regular oven. You will need a nice glass bowl, silicone spatula and some good quality white chocolate. Break the chocolate in pieces, and melt it in the microwave on low heat. Continue microwaving at 15 second intervals, stirring well with a silicone spatula between heating rounds, until it becomes golden and starts smelling divinely. It could take about 30 to 40 minutes, so be patient! Believe me, it will be worth your while! :)
What to Do with Caramelized White Chocolate?
Now, what to do with caramelized white chocolate once you've made it? You can temper the chocolate, and make a chocolate bar or mendiants. Chop your caramelized white chocolate in pieces and add it to your chocolate chip cookies. Make truffles, or make ganache and fill your thumbprint cookies or macarons… Yummy! Options are endless, because caramelized white chocolate is such a great ingredient, so let your imagination run free – heck – that's how my caramelized white chocolate sandwich cookies were born! And trust me, they are a delish! :)
Caramelized White Chocolate Sandwich Cookies Recipe
by:Tereza Alabanda,The Pastry Maestra
PRINT PDF (EN)
ISPIŠI PDF (HR)
Prep. time : 15 minutes
Cook time : 7 minutes plus caramelizing the chocolate (30-40 minutes)
Ready in 60 minutes plus cooling
Level : Advanced
Ingredients:
Chocolate and Hazelnut Cookie Dough:
All purpose flour 180g (6.3oz)
Cocoa powder 20g (0.7oz)
Powdered Sugar 85g (3oz)
Roasted ground hazelnuts 60g (2.1oz)
Butter 140g (5oz)
Eggs 50g (1.8oz or 1 medium egg)
Caramelized White Chocolate Ganache:
Caramelized white chocolate 125g (4.4oz)
Cream 35% 250g (8.8oz)
Glucose syrup 10g (1Tbsp)
Salt 1g (a pinch)
Gelatin 3g (1.5 sheets)
For Decoration:
Egg white 30g (1oz or 1 medium egg white)
Roasted chopped hazelnuts 30g (1oz)
Directions
To make cookie dough put flour into a food processor. Add cocoa powder, powdered sugar and roasted ground hazelnuts and pulse a couple of times to combine the dry ingredients. Add cold butter cut in dices and pulse again until you get crumbly mixture. Then, add one egg and pulse a couple of more times until the dough is done. Wrap it in cling film, flatten it, and put in the fridge for about 1 hour.
While the dough is chilling make caramelized white chocolate. Melt white chocolate in the microwave on low heat. Gently stir with a silicone spatula, and then, put the bowl back in the microwave for 15 seconds. Take it out and stir with a silicone spatula again. Repeat this procedure as many times as needed until the chocolate gets nice caramel color and amazing caramel aroma. For me it took about 40 minutes, but it can take more or less time depending on your microwave oven and the chocolate itself (my microwave oven is 800W). Note that the chocolate will first become thicker, and it might even become grainy at some point, but that is normal. Continue mixing and microwaving for 15 seconds until it becomes caramelized. It is important that you use good quality chocolate with at least 30% cocoa butter content (or more), and without vegetable fats.
To make caramelized white chocolate ganache, soak gelatin in cold water. As soon as the gelatin softens, take it out and squeeze to get rid of the excess water. Put cream into a measuring cup, and add glucose syrup. Heat up this mixture in the microwave. Then, add soaked gelatin and stir until it melts. Gradually add cream into the melted caramelized white chocolate, stirring well after each addition. Blend the mixture with immersion blender until it becomes uniform. Then cover it with cling film, and put in the fridge for a couple of hours or overnight.
Roll out chilled dough onto floured surface to 3mm (1⁄8") thickness using an adjustable rolling pin. Then, cut out cookies using a 5cm (2") in diameter round cutter. Place cookies onto a baking tray lined with perforated silicone mat, and cover them with another perforated silicone mat. Put everything in the fridge for about 15 minutes. If you don't have perforated silicone mat, put your cookies onto a parchment paper. Then, bake them at 180°C (350°F) for about 7 minutes.
Brush half of your cookies with egg white and sprinkle them with chopped hazelnuts. Put them back in the oven for another 2 minutes, and then leave them to cool down.
Transfer your ganache into a piping bag fitted with round 10mm (3⁄8") tip, and then, pipe a blob of ganache onto one cookie, and sandwich it with another cookie. Repeat this procedure until you fill all of your cookies.
There, your delicious caramelized white chocolate sandwich cookies are done! Enjoy!
Copyright© PastryMaestra.comTM
---
Well, what do you think about this post?
Please leave your comment on YouTube, thank you!
I read and really appreciate all the comments, even though I do not always have the time to respond to each one. So – keep me in the loop and try to create some sweetness every day because – Sweetness is happiness!!