by
Tereza Alabanda


D
o you like clouds? I do – but not those ugly, dark, rainy clouds, no! My favorites are the fluffy ones; white, cotton-like, soft and silky like…like the milk bread!
This soft crusted bread, topped with some poppy seeds works great for making sandwiches. However, if you add some rum-soaked raisins inside and top it with pearl sugar, you will get a lovely sweet snack to enjoy with your tea. You can use it to roll up a filling of your choice, and make the softest coffee cake. Give it a try and you will quickly realize that this one is a keeper!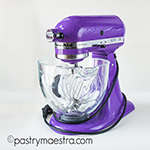 This recipe is extra easy; the procedure works just like making any other lean yeast raised dough. If you are using instant dry yeast, you can pop all ingredients except butter into your stand mixer fitted with the hook attachment. Mix on low speed until the dough becomes smooth, approximately 10 minutes. Add softened butter, little by little, and mix until incorporated. After the dough ferments, you should shape it, and put it onto a paper lined baking tray. If you like to play with your dough, like I do, make a braid or – get wild and make this beautiful platted round shape, I will teach you how!
Milk Bread Recipe
by:Tereza Alabanda,The Pastry Maestra
PRINT PDF (EN)
ISPIŠI PDF (HR)
Prep. time : 60 minutes
Cook time : 35 minutes
Ready in 95 minutes
Level : Basic
Ingredients:
All purpose flour 500g (1.1lbs)
Milk 360g (12.7oz)
Dry Yeast 7g (2Tsp)
Salt 7g (2Tsp)
Sugar 30g (1oz)
Butter 50g (1.8oz)
Directions
Mix milk with yeast in a bowl until yeast dissolves.
Put flour, salt, sugar and yeast dissolved in milk into a stand mixer fitted with the hook attachment. Mix on low speed until the dough becomes smooth.
Add softened butter and continue mixing until smooth.
Leave the dough to ferment for about 40 minutes.
When the dough doubles in size, take it out of the mixing bowl. Divide the dough into four pieces, 235g (8.3oz) each, and make a ball out of each piece of dough.
From each ball, make a rope, approximately 30cm (12″) long.
Place two ropes parallel to each other on the counter. Then, place another two ropes perpendicularly to the first set.
The left vertical rope first goes over the bottom horizontal rope, and then under the top horizontal rope. The right vertical rope goes over the top, and then under the bottom horizontal rope.
Now, again you have four pairs of loose ends. Start braiding with the bottom pair by placing the right over the left rope. Repeat this with remaining three pairs.
Again, you have four new pairs of loose ends. Continue braiding by placing every left rope over every right one.
Finally, you again have four new pairs of loose ends, and finish the braiding using the initial pattern, meaning – the right over the left.
At the end, tuck the loose ends under the loaf, transfer the milk bread onto a paper lined baking tray, and leave it to rise for about 30 minutes.
When the bread rises, brush it with egg wash.
Bake milk bread at 180°C (350°F) for about 35-40 minutes, until nice and golden brown.
Take the bread out from the oven and leave it on a rack to cool down.
Copyright© PastryMaestra.comTM
---
Well, what do you think about this post?
Please leave your comment on YouTube, thank you!
I read and really appreciate all the comments, even though I do not always have the time to respond to each one. So – keep me in the loop and try to create some sweetness every day because – Sweetness is happiness!!