by
Tereza Alabanda


K
aiser rolls, also called Vienna rolls or hard rolls, are crusty, round yeast raised rolls that originated in Austria. The word 'kaiser' means emperor in German, and there is a belief that they got the name after Emperor (Kaiser) Franz Joseph I of Austria who lived at the turn of 19th and 20th century. Kaiser rolls are traditionally made without any topping; however, these days, you can find them topped with poppy seeds, sesame seeds, pumpkin seeds or flax seeds. The signature shape is obtained by using a special stamp that is impressed into the shaped roll.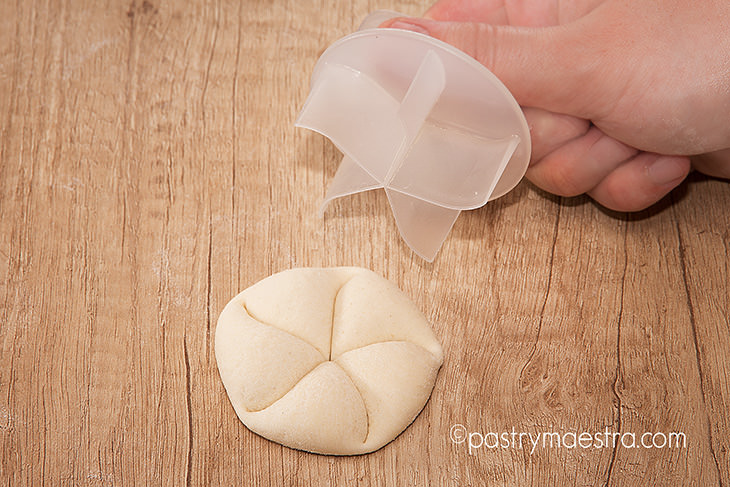 If you don't have the stamp, you can make the similar shape by hand, using this technique: Roll the dough into a thin rope.
Make a knot.
Take the left side of the dough and pull it upwards into the center of the knot.
Take the right side of the dough and pull it downwards into the center of the knot.
You should have something like this:
Kaiser rolls are ideal for making sandwiches, and they are as popular in Austria and Germany as hamburger buns are in America. They are best when freshly baked, so you know what to do!
Kaiser Rolls Recipe
by:Tereza Alabanda,The Pastry Maestra
PRINT PDF (EN)
ISPIŠI PDF (HR)
Prep. time : 60 minutes
Cook time : 15 minutes
Ready in 90 minutes
Level : Basic
Ingredients:
Bread flour 250 g (8.8oz)
Water 160g (5.6oz)
Dry yeast 4g (1Tsp)
Salt 5g (1Tsp)
Butter, melted 15g (0.5oz)
Poppy seeds as needed
Directions
Combine water and yeast, stir until yeast dissolves.
Put flour and salt into a bowl of a stand mixer fitted with hook attachment. Mix on low speed and add water with yeast.
Continue mixing for approximately 10 minutes until the dough becomes smooth and uniform.
Add melted butter, mix until well combined.
Cover the dough and let it ferment until it doubles in size.
Punch down the dough and divide it into 30 g (1oz) pieces. Round the dough, shape every piece into a ball and place them into a pan lined with parchment paper.
Cover the rolls with a cloth and let them rest for 15 minutes.
Make Kaiser roll shape using a stamp, or by hand and let them ferment.
Before baking, brush rolls with egg wash and sprinkle them with poppy seeds.
Bake them at 200ºC (400°F) for about 15 minutes, until golden brown and crispy. Leave them on a rack to cool down.
Copyright© PastryMaestra.comTM
---
Well, what do you think about this post?
Please leave your comment on YouTube, thank you!
I read and really appreciate all the comments, even though I do not always have the time to respond to each one. So – keep me in the loop and try to create some sweetness every day because – Sweetness is happiness!!