by
Tereza Alabanda


E
asy guys, relax! It's not what you think! Blondies, NOT blonds!
Blondie [ˈblɒndi] Noun: blondie Plural noun: blondies Informal: a blonde-haired person, typically a woman or girl (usually as a form of address). In a sentence: "Have a brownie, blondie!" Formal: a small square of dense, pale-coloured cake, typically of butterscotch or vanilla flavour. In a sentence: "Cut blondies, brownies, or other sweet squares into very small pieces."
A blondie (also known as a "blond[e] brownie" or "blondie bar") is a rich, sweet dessert bar. It is made from flour, brown sugar, butter, eggs, baking powder, and vanilla, and may also contain walnuts, pecans, chocolate chips, or fruits. The interesting fact is that blondies preceded brownies! Go figure! If you dig into old cookbooks, you'll find that blondies recipes date before recipes for brownies, though they both went by different names. In the mid-19th century, there were recipes that seemed to combine the flavors of butterscotch (butter and brown sugar), which was a very popular candy at the time, with flour and a leavening agent. The first recipes for brownies, on the other hand, didn't appear in cookbooks until the beginning of the 20th century.
Dense and chewy or light and fluffy? Now – that is the question! Most people, myself included, will say – dense and chewy. And you can achieve that by melting the butter instead of using creaming method. Let me remind you, creaming method calls for creaming butter with sugar, which incorporates air into the mixture. If you like chewy blondies, you will only need to melt your butter, or for the extra flavor, make beurre noisette! Combine melted butter with other liquid ingredients and mix with the dry ones. After you did that, pop anything you like into the mixture – chopped nuts, chocolate chips, dried or fresh fruits, candy, cookies, you name it! Let your imagination run wild because – as I've already mentioned – blondies are fun!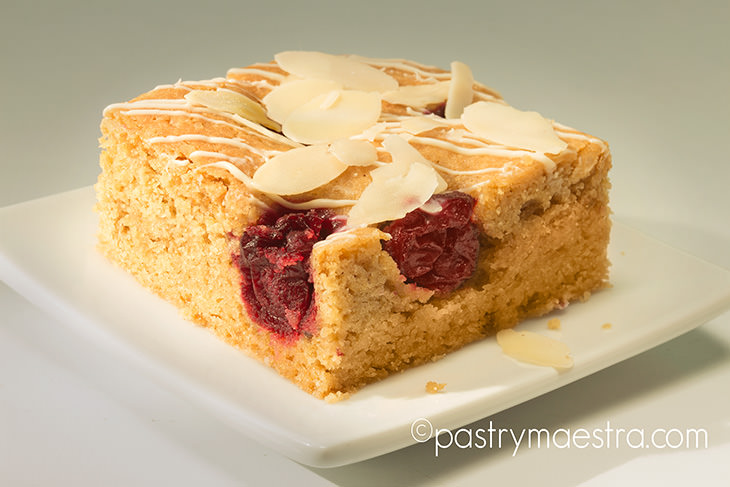 Almond and Sour Cherry Blondies Recipe
by:Tereza Alabanda,The Pastry Maestra
PRINT PDF (EN)
ISPIŠI PDF (HR)
Prep. time : 10 minutes
Cook time : 30 minutes
Ready in 40 minutes
Level : Basic
Ingredients:
Butter 165g (5.8oz)
Light brown sugar 150g (5.3oz)
Muscovado sugar 50g (1.8oz)
Eggs 100g (3.5oz or 2 medium eggs)
Salt 2g (1⁄2Tsp)
Baking powder 5g (1Tsp)
All purpose flour 220g (7.7oz)
Sour cherries 100g (3.5oz)
White chocolate for the glaze 100g (3.5oz)
Slivered almonds 100g (3.5oz)
Directions
Line 20cm x 20cm (8″ x 8″) baking pan with parchment paper.
Make beurre noisette (brown butter): melt the butter over low heat. Continue cooking until all the water evaporates and the milk solids turn into brown specs at the bottom of the pan. Sieve the butter through a gauze.
Add both sugars and eggs to the butter, and stir with a whisk.
Mix flour, salt, and baking powder in a large mixing bowl.
Pour liquid ingredients into the dry ones and stir until combined.
Pour the mixture into the pan, and level the top with the spatula. Scatter sour cherries on the top.
Bake at 180°C (350°F) for about 30 minutes, until golden and just set in the middle. Leave it to cool down.
Decorate blondies with melted white chocolate and slivered almonds.
Copyright© PastryMaestra.comTM
---
Well, what do you think about this post?
Please leave your comment on YouTube, thank you!
I read and really appreciate all the comments, even though I do not always have the time to respond to each one. So – keep me in the loop and try to create some sweetness every day because – Sweetness is happiness!!